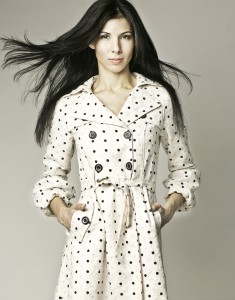 INSPIRATION
Fashion model Aubrey Rinehart is known for her lithe frame and serene good looks on the runway. She has appeared in fashion shows across the US, Taiwan, Hong Kong and Mexico, getting her start several years ago after seeing an advertisement for a show by her home. She has modeled for a wide range of designers from high established to up and coming. Fashion shows she has appeared in include New York Couture Fashion Week, Santana Row's Poolside Soiree, Spring Into Fall, Snow 2 and CHIC Week, among many. She has also modeled with established designers at Hong Kong Fashion Week. As a talented model, she is looking to expand her horizons. She aspires to work alongside industry staples such as Adrianna Lima, Natasha Poly and Caroline Trentini.
IMPULSE
If you want to be a model, you have to model; so model. These words finally awoke the model inside Aubrey Rinehart and she began to realize her dream. The curve is steep and the world is vast but every step is a runway. With a multiracial heritage, her look can transform for the unpredictable from edgy and fierce of high fashion and couture to sexy and serene for gowns and everyday wear as any collection compels. Born for the moment, Aubrey Rinehart captivates the audience when she graces the runway as the moving mannequin.
IMPRINT
Shift. Position. Hold. Flash. Click. Modeling is about conveying a message without words. Photography is one medium by which the message is transmitted. Aubrey Rinehart has worked with many talented photographers to express meaning. As each one brings a different sight, she hopes to work with many more talented photographers.